The patient is the center of our approach. Our product is oriented to considerably improve the quality of the life and the success of the approach. We proposed a solution highly innovative, efficient, confortable, low cost, unisex and easily usable. However, a continuous interaction with the patient is a foundamental step for our strategy.
The patient feels the urge to urinate so sits or gets close the water closet and takes the external permanent magnet
The patient approaches the magnet with the green face to the perianal area for 3 seconds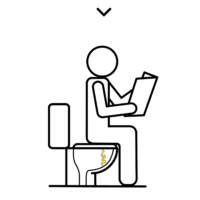 The patient removes the external magnet and the urination occurs.
Once the urination is finished the patient takes the permanent magnet and approaches it with the red face to the perianal area for 3 second.
The continence is restored.